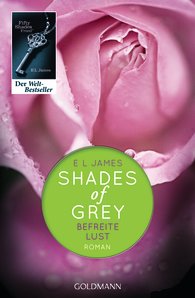 Weil im Netz die vielfältigsten Spekulationen kursieren, an dieser Stelle ein wichtiger Hinweis: Erstverkaufstag für den dritten Band, "Shades of Grey. Befreite Lust", ist der 24. Oktober 2012.
Wir hoffen, dass wir euch schon bald eine Leseprobe aus Band 3 zur Verfügung stellen können, um das "Warte-Leiden" ein bisschen zu lindern. Sobald wir unserer Lektorin die ersten Seiten entreiss … äh, entlocken können, erfahrt ihr das natürlich sofort hier im Blog oder auf Facebook. 🙂 Apropos Facebook: Mittlerweile sind dort schon über 40.000 Shades of Grey-Fans (ganz schön) aktiv – und wir würden uns freuen, weitere "Shadies" in unserer Runde begrüssen zu können!!!
Und noch ein paar Hör-News: Ab morgen ist der Klassik-Soundtrack zu "Shades of Grey" auf CD und als Download erhältlich (wir haben hier berichtet). Bereits jetzt könnt ihr euch einen Vorgeschmack auf das Album bei der Intouch abholen: Hier geht's zum Pre-Listening!